Pigtails Collector's Editions in English and French released
Pigtails and other I.G shorts
Collector's Edition Blu-ray
available in English and French
Yoshimi Itazu's Fukushima disaster-themed short film Pigtails is now available on blu-ray and DVD in the United Kingdom, Ireland, and French-speaking countries in Europe. Both English and French editions include four more short films from Production I.G, namely Kick-Heart by Masaaki Yuasa (Devilman Crybaby, Lu Over the Wall, Ride Your Wave), Li'l Spider Girl by Toshihisa Kaiya (animator in Haikyu! S1, director of FLCL Progressive Episode 2), Drawer Hobs by Kazuchika Kise (chief animator in Ghost in the Shell, Ghost in the Shell 2: Innocence and Blood: The Last Vampire), and Oval x Over by Hiroyuki Imaishi (Promare, Gurren Lagann, Kill la Kill). It is a unique opportunity to own five rarely seen little gems created by the studio.
UK and Ireland Release
The Collector's Edition of Pigtails and Other Short Stories from Production I.G is available exclusively from the AllTheAnime.com official website. The standard blu-ray edition will be available from all retailers from March 25, 2019.
The Collector's Edition box comes with a 156-page book with the full storyboard of Pigtails drafted by Yoshimi Itazu, and it is entirely translated into English. A second 140-page-thick book collects an extensive essay on Pigtails and the dramatic events that inspired the story, plus overviews and design material from the five shorts. All films are subtitled in English.
An official unboxing video is available at this YouTube link.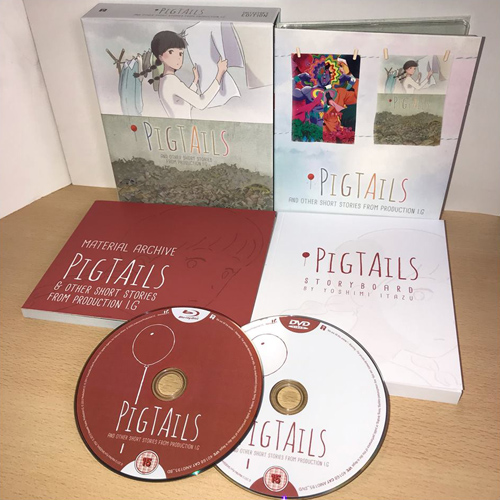 French Release
The French language blu-ray Édition Collector, entitled Pigtails et autres histoires extraordinaires comes as a mediabook with 96 pages of essays and production material similar to the UK release. All films are dubbed in French except Oval x Over, which is French-subtitled only as separate M/E tracks no longer exist. Option for Japanese audio with French subtitles is of course possible for all five shorts.
The blu-ray mediabook as well as the standard DVD edition can be purchased from the Kazé official website, and from the best on-line and brick-and-mortar retailers in French-speaking Europe.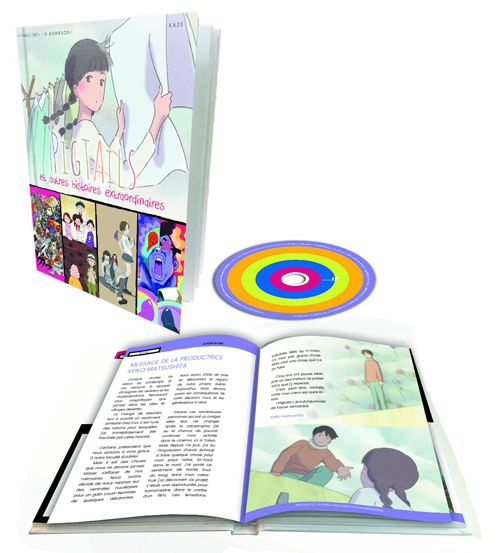 © 2015 Machiko Kyo/SHUEISHA, ITSV