OVERVIEW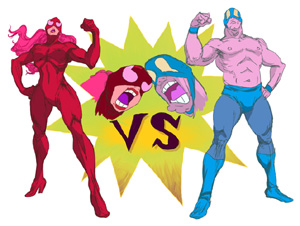 Kick-Heart
A love story between two people that each have a secret to hide.
One a pro-wrestler, the other a nun.
Losing never felt so good.

Kick-Heart is a creative effort by award-winning Japanese animator Masaaki Yuasa, produced by an international team of professionals under the umbrella of Production I.G, and financed through the Kick Starter crowd-founding system.

Story
Kick-Heart is a love story between Romeo, a successful pro-wrestler, and Juliet, a nun who lives a secret double-life as a female pro-wrestler. Romeo's secret is that he enjoys taking a beating in the ring, while Juliet feels invigorated when facing her opponents as a wrestler. When the two meet in the ring, the fireworks fly. Their story is set in the colorful backdrop of the professional wrestling world. Will Juliet reveal her true identity to the one she loves? Will Romeo be able to share his secret to the world?

About Masaaki Yuasa
Like many other outstanding creators in the anime industry, Masaaki Yuasa (Fukuoka, 1965) moved his first steps in the animation industry working on popular children fares, such as Chibi Maruko-chan and Crayon Shin-chan. However, his directorial debut, the feature film Mind Game (2004) proved highly experimental and immediately became a statement of his visionary talent, rewarded by the Best Director, Best Script and Audience for the Best Animation Film awards at the 2005 Fantasia Film Festival. He then directed three TV series, namely Kaiba (2008), The Tatami Galaxy (2010), awarded with the Excellence Prize and Grand Prize respectively at the Japan Media Arts Festival; and Ping Pong the Animation (2014), that was Animation of the Year winner at the Tokyo Anime Awards 2015. He contributed character design works for a special episode Noximilien l'Horloger from the French series Wakfu, produced by Ankama. In 2013, Yuasa and his long-time collaborator Eunyoung Choi founded their own studio, Science Saru. 2017 saw the release of two feature films: Lu over the Wall, that made history by winning the coveted Cristal Award at the 41st Annecy Animation Film Festival (the first time in 22 years for a Japanese film since Isao Takahata's Pon Poko), and Night is Short, Walk on Girl, greeted with Best Animated Feature award at the 41st Ottawa International Animation Film Festival. In 2018 he shocked the global audience with the Netflix Original Series, Devilman Crybaby. His animation is cherished by the people who are familiar with his work and his style of animation is unlike anything being made. His work plays with themes of slapstick comedy and human drama.

Release in Japan: 2013
Format: 1 x 12'42"

© 2012 Masaaki Yuasa, Production I.G