OVERVIEW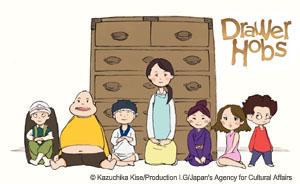 Drawer Hobs
Overview
Production I.G is one of the four animation studios selected by an appointed committee to produce an original animated film of approximately 24 minutes as part of the Young Animators Fostering Project 2010, promoted by the Agency for Cultural Affairs of Japan and implemented by JAniCA (Japan Animation Creators Association).
The film produced by I.G, entitled Drawer Hobs (original title: Tansu Warashi) marks the directorial debut of Kazuchika Kise, senior animator at I.G's Studio 1, whose credits include realistic projects such as the two Patlabor movies, Ghost in the Shell, Innocence, Blood: The Last Vampire, Musashi: The Dream of the Last Samurai, but also lighter works such as all xxxHOLiC animated adaptations or Video Girl Ai, and more recently the character designs for the series, Made in Abyss. Kise contributes also the original story concept and the character designs, based on the design concept by Ryo Hirata, known for the human characters design in Oblivion Island. Animation is supervised by Toshihisa Kaiya (IGPX, Tales of Vesperia: The First Strike, Haikyu!), the screenplay is by Daishiro Tanimura (Ghost Hound, Walking Meat) and the background art is by Hiromasa Ogura (Ghost in the Shell, Jin-Roh).
All key animators have been selected among staff with less than five years of experience.
Drawer Hobs will receive limited theatrical release from March 5 to 11, 2011 along with the other three films that are being produced under the same project, and it is slated to air on MBS later in the same month.
Story
Noeru is a young woman with an uninteresting job who lives alone in an ageing apartment in a big city. One day, without notice, her mother sends her an old and bulky chest of drawers. Not exactly the most welcome piece of furniture for Noeru's small room!
That night, as Noeru comes back from work, she finds a chubby little boy sitting on the floor while peacefully munching a pack of rice crackers. The next morning, she wakes up at the delicious smell of breakfast waiting for her on the table... but she does not recall of having cooked any! And isn't the kitchen all clean and tidy instead of the usual mess? And aren't there two weird kids in her room now?
Noeru has just met the drawer hobs... but who are they, and why on earth are they in her apartment, anyway?
A quirky, heart-warming and chillaxing comedy.
official website (Japanese only):
http://janica.jp/pja/
official blog (Japanese only):
http://pp1-e07a.blogspot.com/

© 2011 Kazuchika Kise/Production I.G/Japan's Agency for Cultural Affairs