OVERVIEW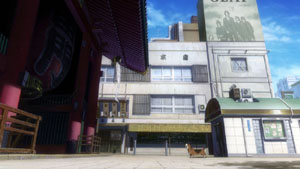 Je t'aime
World's acclaimed anime maestro, Mamoru Oshii directs a short animated movie in collaboration with Japan's best-selling rock super group GLAY.
Tokyo, the near future. As humanity has been wiped out from the planet after the final war, a lonely basset hound wanders around a deserted city. Its only wish is to feel the warmth of a human being once again. Then, one day a bewitchingly beautiful girl-shaped robot appears in front of the dog... Mamoru Oshii tells a story of ultimate love in a world without people.
About GLAY
GLAY is a Japanese rock band from Hakodate, Hokkaido, formed by guitarist Takuro and vocalist Teru during high school in 1988. The current band members are TAKURO (guitar), HISASHI (guitar), JIRO (bass), and TERU (vocals). GLAY released their major debut single Rain in 1994, and their second album, BEAT out! (1996) topped #1 in the Oricon Sales Chart, launching the band to a sky-rocketing career. In 1999, their Glay Expo '99 Survival live concert was attended by 200,000 people, the largest ever attendance for a single concert in Japan. Throughout their career, GLAY have released forty-nine singles and twenty albums, with the compilation Rewind ~ Best of Glay selling a record-breaking 5 million units. GLAY's highly anticipated 10th original album, entitled GLAY is slated on October 13, 2010.
official website:
http://lsma.jp/
© 2010 loversoul