OVERVIEW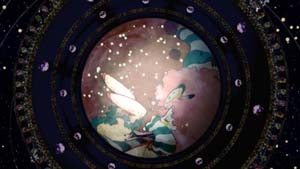 Universe

Under the night sky feebly illuminated by countless twinkling stars, a little girl wanders alone through a magic world between darkness and dawn, that is not today and not tomorrow, inhabited by 6 billion solitudes. What will she encounter in this solitary night journey?
Production I.G and Victor Entertainment have teamed up to produce a fully animated music clip for the song Universe, performed by Japanese pop singer Maaya Sakamoto and included in the artist's 2007 album, entitled 30minutes night flight. The clip has been made available on DVD format in the limited double-disc (CD+DVD) edition of the album.
The beautifully animated bitter-sweet atmosphere of Universe, that unfolds like a watercolor-painted picture book, is the creative accomplishment of a most promising duo concealed under the collective pseudonym of Gekidan INU Curry, who designed the characters and directed the film produced at Production I.G's Studio 4 under the supervision of line producer Hidekazu Terakawa (Jin-Roh, IGPX).
When Maaya Sakamoto saw some sketches that Gekidan INU Curry was preparing for the new web service DecoBlog, she immediately fell in love with the cute yet melancholic, imperfect and deeply human little characters depicted in that sheet of paper, and the production of the music clip got started. While the design for the little girl is original, many DecoBlog characters appear as guests in the video. "Gekidan INU Curry's drawings," said Sakamoto, "have the quality of a picture book and the unrealistic feel of a fairytale as well as some dark humor to it. They are really colorful, cute and fantastical. The characters convey this fancy atmosphere at first sight, but if you look at them carefully, you can see them injected with a needle, bandaged, or drooling. You see, they are not only cute, but they also remind us of imperfect mortals. I had the impression each character had a story behind him or her. I thought they were ideal actors to appear on the video."
Profile: Gekidan INU Curry - Translating 'Theatrical Company Dog Curry', is a creative team composed by two young artists, 2shiroinu. (2white Dog.) and Doroinu (Muddy Dog), who after a career in commercially-based animation decided to focus exclusively on art films that can express their sensitiveness. "We both had set our eyes on Russian and Czech animation styles. Rather than working with a lot of people like in an orchestra, we prefer to create miniature landscapes that can be accomplished by working individually."
Profile: Maaya Sakamoto - Born on March 31, 1980, Maaya Sakamoto started her professional career as a singer at 15, when her talent was discovered by world-famous composer and music producer Yoko Kanno. At that time, she performed the opening song for the animated TV series The Vision of Escaflowne (1996) while giving her voice to the main character in the same series, Hitomi Kanzaki. Her career as voice actor and singer continued in both animation and live-action productions, her credits including Nathalie Portman / Padme Amidala in the Star Wars saga, Jessica Alba / Max in Dark Angel, and Reika Mishima in RahXephone. Maaya's 10th album 30minutes night flight is a musical concept work that the artist herself describes as "a 30-minute night flight dedicated to all the people who experienced at least one sleepless night."
© Gekidan INU Curry · Production I.G / Victor Entertainment