OVERVIEW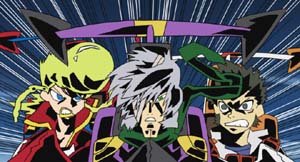 Oval x Over
OVERVIEW
The masterminds behind the outrageous anime Dead Leaves, Hiroyuki Imaishi and Imaitoonz, have teamed up again to create Oval x Over, a promotional animation for the Bridgestone Indy Japan 300 Mile race. Composed of three 3-minute shorts, it is an experiment to portray Indy car racing with animation and music. The narrative style itself is a straight, over-the-top parody of the sports anime classics of the '70s, and cleverly mixes a professional-style live commentary of the race with flashbacks regarding the three main characters' past, with both dramatic and hilarious results. The video had premiered at an event called "Bridgestone Indy Japan 300 Mile in Roppongi Hills" at the Roppongi Hills Arena in Tokyo on March 23, 2005. The animation staff also created the music video for the official song Over Top, performed by legendary singer Maki Oguro. It is rumored that they worked 300 hours overtime to complete the project.
STORY
Burn is eager to defeat the champion, Earth, to overcome some past trauma. The glamorous Gravis is also after the championship. And there is Earth, the champion himself, who is waiting to face a challenger capable of defeating him.
Each pilot skillfully exploits a variety of difficult driving techniques, and they run neck and neck in this car-action-filled animation. In fact, the three racers' destiny is bound by an accident occurred five years before...
About Hiroyuki Imaishi
Born in 1971, Imaishi graduated from Tama Art University and joined studio Gainax in 1995. His first assignment was inbetween animator for the TV series Neon Genesis Evangelion. In 2000, he was storyboard artist and animation supervisor the video series FLCL. His directorial debut materialized in 2004 with Dead Leaves, a collaboration with studio Production I.G, followed in 2005 by Oval x Over, a promotional animation for the Bridgestone Indy Japan 300 Mile race. International success came with Gurren Lagann (TV series in 2007, movie in 2009). In 2011 he left Gainax to co-found studio Trigger, where he directed TV series Kill la Kill (2013), and the box office-hit feature film Promare (2019). An admirer of legendary animator Yoshinori Kanada, Imaishi is loved by his fans for his frantic animation combined with elaborate storyboarding and punchy direction.

© 2005 Imaitoonz/Production I.G