OVERVIEW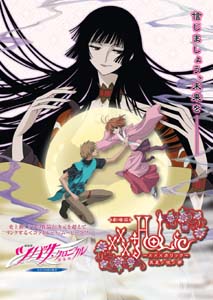 xxxHOLiC
A Midsummer Night's Dream

Tsubasa Chronicle
The Princess of the Birdcage Kingdom


xxxHOLiC and Tsubasa -RESERVoir CHRoNiCLE-, the latest manga bestsellers from the hit-maker atelier CLAMP, are now transposed into two brand new feature anime films! The two films have completely original scripts, but as their manga versions, the stories are interlinked despite they take place in different dimensions, making this new type of "collaborative movie" a first for the film industry.
xxxHOLiC started in Young Magazine in February 2003, followed by Tsubasa -RESERVoir CHRoNiCLE- in May 2003 on the pages of Shonen Magazine. They are the two masterpieces that celebrate CLAMP's fifteen years as a group, composed by Satsuki Igarashi, Ageha Okawa, Tsubaki Nekoi and Mokona. After their major debut in 1989 with RG Veda, CLAMP have won popularity around the world with titles such as Magic Knight Rayearth, Chobits and Cardcaptor Sakura. Although the two series were appearing in two separate magazines and had two separate worldviews, CLAMP decided to link the stories. This new approach surprised everyone and ushered in a new age to the world of manga. The story encompasses the origin of their respective worlds, as well as aspects of other manga created by the atelier. We are witnessing the entire CLAMP World being created.
Tsubasa -RESERVoir CHRoNiCLE- has already been made into animation as a TV series started on NHK from April 2005, gaining more fans, while xxxHOLiC receives here its first media adaptation.
Theatrical release in Japan: August 20, 2005
© 2005 CLAMP/Kodansha/" The Movie Tsubasa Chronicle The Princess in Birdcage Kingdom" Committee
© 2005 CLAMP/Kodansha/"The Movie xxxHOLiC A Midsummer Night's Dream" Committee
STORY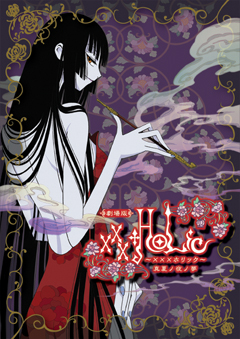 xxxHOLiC
A Midsummer Night's Dream
I will make your wish come true
...if you pay an appropriate remuneration for it.

In contemporary society, ordinary people live hiding little invasive fixations within the darkest corner of their hearts. Yuko, the charming proprietor of the "shop", is ready to challenge all possible soul intoxications = xxxHOLiC



INTRODUCTION
High school student Kimihiro Watanuki can see "ghosts" that ordinary people can't. One day, he meets Yuko Ichihara, the proprietor of a strange shop. She says, "I can make any wish come true". But she asked for an "appropriate remuneration" for it. To "remunerate" Yuko for her services to alter his spiritual tendency, Kimihiro is forced to start working at her shop. The clients of the shop all look very ordinary, but they are a bit skewed, or have rather unusual problems...

STORY
Yuko receives a letter from an unknown sender. It is an invitation to an auction. Seven avid collectors were invited to an old mansion. They all admit that they accepted the invitation to complete their collections. They waited for the host, but he does not make an appearance. And one by one the collectors disappear. The strange host and a mysterious girl. A night where odd things happen one after another. What is being auctioned? Who is the host? The cunning and foolish people who are obsessed with "possessions" and the host's "timeless" passion. What is waiting at the end of this enigmatic series of riddles? And what is the conclusion of the sad love story behind them? Mystery leads to mystery, and reaches the unexpected!

Official website (Japanese only):
http://www.holic-tsubasa.com
Release in Japan: August 20, 2005
Format: 1 x 60'
© 2005 CLAMP/Kodansha/"The Movie xxxHOLiC A Midsummer Night's Dream" Committee