Studio 1 Part 01: History of Studio 1
Production I.G is now a structure with nine animation studios, one background studio, one CG room, one game development section and a detached studio in Niigata. What it is now called Studio 1 used to be the one and only animation production room in the early days of Production I.G (then IG Tatsunoko). The key figure of Studio 1, then as now, is animator Takayuki Goto. As you may have thought, the letter "G" of Production I.G stands for Goto's "G", as he's been a core member of the company since its establishment. (The "I" is President Ishikawa's initial). When Production I.G was created, there was just one one room that was called "Animation". Eventually, as the number of staff increased, there wasn't enough space in the room. So it was decided to split the staff into two groups: Studio 1 and Studio 2. This was when Studio 1 was created. By the way, Kazuchika Kise was the key figure in Studio 2.
"I think it was Ishikawa's idea to have a key person in each studio and let the two studios compete. And Kise, who joined I.G later, seemed to be the right person, so Ishikawa asked Kise to head the second studio," says Goto, one of the few people who know of the beginnings of the company. It is not as though each studio works on parts of the same project, nor is it the case where each studio works on entirely separate projects. No specific quality of animation skill (action-oriented or heartwarming) is associated with either of the studios. Therefore, it could be said that the difference between the studios is the really difference between the management styles of the two key figures, Goto and Kise.
For instance, Goto is a typical morning person who arrives at the studio regularly at 10:30 am and leaves at around 10:30 p.m., whereas Kise is a night person. Therefore, many of the staff in Studio 1 are early risers. But Goto feels many people in Studio 2 are more unique. "This might be due to the difference in criteria for picking our staff. For me, of course the skill comes first, but I'd look for team players among other traits that I feel would be useful in animators." But according to Goto, his primary concern is not whom he selects, but how he would train the staff.
"I feel responsible for the rookies I chose and I think it's important how you guide these people. So I make a point in giving young people a chance to participate in a project. And you know, an animator will get better if he or she stays in the business long enough. Unfortunately, many quit before reaching that stage. So I try to make our workplace environment comfortable enough so that people will want to stay as long as they can."
When offered to join Ishikawa to start I.G, Goto accepted hoping that "the company would become an enterprise that would return the profits to the animators." So when the company started to turn a profit, he proposed ways of creating a better working environment for the animator. These included small things, though important to the animators, such as starting a proper pencil supplies system.
"Since Ishikawa was working hard externally as a producer, I thought it was my task to train animators. I feel I have fulfilled my task since some of them have become animation supervisors. If they could train the next generation of animators, then I.G will be fine."
It might be partly due to Goto's policy that the retention rate of the staff at Studio 1 is higher than at other studios. And it seems that his warm personality is reflected in the calm and self-assuring atmosphere of Studio 1. It seems to be a comfortable place to work.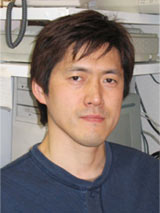 Takayuki Goto